A Simple Favor: The Cast For the Upcoming Adaptation Is Flawless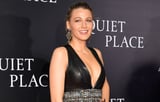 If you've been waiting for the next Gone Girl, the wait is almost over - A Simple Favor, a mystery thriller based off of the Darcey Bell novel by the same name, is coming out this Fall, and it seriously looks insane. The film follows a fledgling vlogger who tries to solve the sudden disappearance of her glamorous but unknowable best friend, and - with the same unreliability that makes Gone Girl so addicting - you won't know who to trust until the very end.
A Simple Favor won't be out until Sept. 14, but check out the awesome cast (who are already forming some enviable new friendships) to see just why we're so excited for this one.